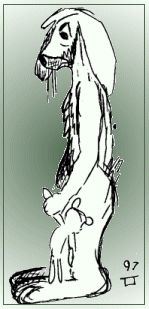 There's a ripple in the furce, and so I've started a Dreamwidth account in parallel with LJ. One benefit is that I got my nick back by using DW - I've used 'moonhare' pretty much since the
beginning
. I was
blackhawk, corey36
, and
furryboy
for a time before that, but only about six months as I hopped about and let myself emerge. Short version: I ended up with moonhare back on yiffnet, in the summer of '97, because I decided I was a moonstruck rabbit. The little user pic here is one I did for myself (only a lot larger) and has always been one of my favorites. The other pic is grumpy moonhare, from my tigress page.
On to posting! I want to see how this all translates.
edit: works well, but I'll have to explore user pic defaults and changes.
off to bed!